Glenn Hampton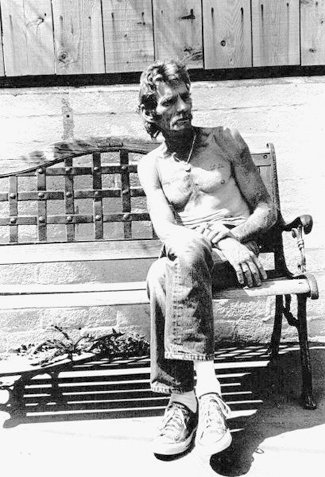 Lili took this picture in her backyard on Kansas St. for a photography class at City College.


Glenn was not only a great model, but he was my best friend, an exemplary man – sweet, kind and generous to a fault. I loved him and miss greatly.


Glenn touched a lot of lives – that is his legacy.


Lili writes: To let you know, my good friend Glenn Hampton, who helped me immeasurably, had 11 years clean when he picked up again last December.


He was prescribed Vicodan for pneumonia and TB, which let to IV heroin and cocaine use. He had been in poor health when he died, alone, in his mobile home last Tuesday.


In a way, his death has freed him from the misery of failing health and, of course, active addiction. An NA friend saw him lying inside the mobile home, apparently unconscious, eyes open.


He had recently received his monthly Social Security check, which may have financed his final shot. My mother and I and a friend in SD who runs recovery homes were trying to help him.


My mother was sending money so he could go into detox. I'm trying to organize a service for him from here in Minneapolis, and may go to SD next week.


xx's Lili – I was trying to get Glenn's story for several years he was gonna have Lili write it and Lili was dying from Heroin use too now miraculously she is clean and back into recovery fulltime for the fourth time.


Glenn was in jail and they removed his gall bladder by mistake thinking he was a different inmate.


He got the message of NA from a member of the Charles Manson Family and Disciple in that same prison who became a minister of a church doing life behind bars but got Glenn clean with the 12 steps of NA.