Hash oil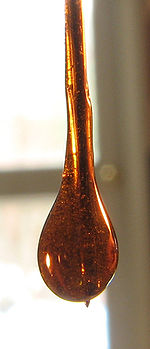 is an evaporated solution of tetrahydrocannabinol and various other compounds produced by a solvent extraction of cannabis.


Despite the similarity in names, it does not resemble hashish. It can be a very potent drug due to its high THC concentration, which generally varies between 70 – 90 percent.


Related Honey oil is a specific type of hash oil produced by certain solvents, most commonly butane, and isopropanol. Sometimes called butane hash oil or BHO, or simply "oil", it is traditionally a dark, viscous liquid made by solvent extraction of cannabis resin.


The effects of extracted resin are comparable to smoking the same plant from which it was extracted, but often intensified due to its much higher potency. In the case of honey oil, several small drops can produce effects comparable to a much greater amount of plant material.


This can sometimes cause overwhelming effects if the extract's high concentration of cannabinoids is not taken into account.