Southern California Alcohol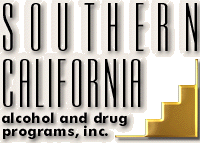 and Drug Programs, Inc. – SouthernCaliforniaAlcoh.


Southern California Alcohol and Drug Programs, Inc. seeks to prevent and treat substance abuse and related problems, homlessness, mental health disorders, HIV/AIDS, domestic violence, criminality, and welfare.


We target underserved and disadvantaged populations, including the homeless, victims of domestic violence, persons living with HIV/AIDS, pregnant and parenting women and their children, as well as Deaf and Hard of Hearing persons and the criminally-involved.


SCADP provides over 500 residential treatment beds and 1,000+ outpatient counseling slots that serve over 5,000 men, women and children each year throughout Los Angeles and Orange Counties.


11500 Paramount Blvd. Downey, CA 90241 (562) 923 – 4545.