cocaine haul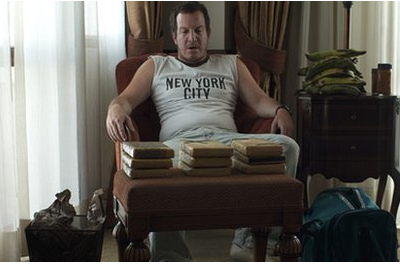 A feature film


about an Ecuadorean fisherman who finds a cocaine haul worth a fortune reflects the real-life and growing influence of the illegal drugs trade in the country.


Ecuador film shows growing reach of drugs trade


By Irene Caselli Quito 11 April 2012


It is dawn and several fishermen are on a beach, ready to start work.


As they push a boat into the water, they come across a box with tightly sealed packets full of a white powder: cocaine.


By the end of the morning, dozens of boxes have washed ashore, and fishermen run around trying to gather as many as possible.


These are the opening scenes of Pescador (Fisherman), a film by Ecuadorean director Sebastian Cordero, which is based on a true story.


In 2006, a speedboat chased by the police had to drop a shipment of cocaine off the coast of Ecuador's western province of Manabi.


Fishermen in El Matal, a town of 2,000 people, found the boxes.


Mr Cordero developed the screenplay together with Juan Fernando Andrade, a journalist who interviewed one of the fishermen.


In real life, the fisherman in question sold the drugs and spent all the money on a trip around Ecuador with a Colombian prostitute.


Sandwiched between Peru and Colombia, the world's two largest cocaine exporters, Ecuador is a key transit point for drugs shipped to Europe and the US.


In addition, the US dollar is its national currency, making illicit transactions and money-laundering easier.


According to a report by the armed forces, Ecuadorean authorities have underestimated the danger posed by organised criminal groups on national territory.


"If the right measures are not taken, the situation will easily get out of the control of the government – in the short or medium term – and levels of extreme violence will be reached," the report says.




A US state department report on narcotics worldwide released last month, raised similar issues.


"Ecuador is vulnerable to organised crime due to weak public institutions, porous borders, and corruption," says the 2012 International Narcotics Control Strategy Report.


"The increasing problems of domestic drug consumption and the associated rise in crime is a growing concern," it added.


A recent scandal highlighted the extent to which cocaine smuggling is indeed a growing concern for Ecuador.


In February, Italian police discovered 40kg (88lbs) of cocaine, worth more than two million euros (£1.6m), in a diplomatic pouch from Ecuador.


According to an international convention, governments use pouches to send classified correspondence and other things needed for their missions abroad.


In November 2011, Ecuador adopted a provision whereby it established additional items that could be carried in diplomatic pouches – including art and crafts used for the cultural promotion of Ecuador abroad.


The pouch found in Milan contained material for a theatre show as well as the drugs.


The Ecuadorean government denied any involvement in the cocaine shipment and the foreign minister said the pouch had gone through a third country.


But analysts have pointed out that the incident points to high-level corruption.


Mexican gangs


According to Insight Crime, a think-tank that researches organised crime in Latin America, Ecuador is increasing in importance as a trafficking route because Mexican cartels are now buying cocaine directly from Colombian guerrillas on its territory.


Last year, Jay Bergman, the director of the US Drug Enforcement Administration's operation in the Andes, said Ecuador was becoming the "United Nations" of organised crime.


According to the US state department's report, Mexico's Zetas, Sinaloa and Gulf Cartels, as well as Colombia's Farc rebels move cocaine through Ecuador.


In the film Pescador, drug traffickers are only seen once as they buy back their lost shipment one night on El Matal's beach.


People queue up to sell the cocaine and then use the money to organise an alcohol-fuelled party the following day.


But Blanquito, the film's protagonist, decides to keep his share of the drugs to earn money while he travels on a voyage of discovery around Ecuador.


"I had a strong dilemma when I started making the film which was what the tone of the film should be," said Mr Cordero.


"It's a film that talks about finding drugs the way you would win a lottery ticket, and that's risky."


The film is not the usual drug-trafficking thriller, with car chases and bloody scenes.


Instead it focuses on Blanquito's efforts to fulfil his dreams.


Murder rate


Mr Cordero says the film's lighter touch made it popular at Latin American film festivals, where it won several prizes.


"People actually felt that it was very refreshing. They really liked seeing the theme of drug trafficking in the background without it being what overwhelms the story."


This was partly possible, says Mr Cordero, because violence in Ecuador is still relatively contained.


According to the latest report by the UN Office on Drugs and Crime (UNODC) Ecuador's murder rate is 18.2 killings per 100,000 inhabitants.


This compares with the rate in Honduras of 82.1.


Violence – often associated with infighting between gangs over territory for local sales of drugs – is mainly limited to the areas along the drug routes.


These include the borders with Colombia and Peru, as well as coastal areas.


"We're not seeing people's severed heads on a daily basis as a consequence of a drug war, which is what's happening in Mexico," says Mr Cordero.


"We're still quite a few steps behind."


The hope in Ecuador must be that it stays that way and that the country remains far from being the setting for a real-life drug crime thriller any time soon.