MDMA (Ecstasy)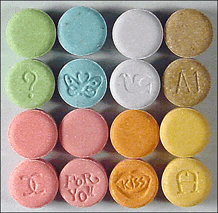 UTOPIAN PHARMACOLOGY – Mental Health in the Third Millennium MDMA and Beyond.


MDMA (3,4-Methylenedioxymethamphetamine) (colloquially known as ecstasy, often abbreviated "E" or "X") is an entactogenic drug of the phenethylamine and amphetamine class of drugs.


MDMA can induce euphoria, a sense of intimacy with others, and diminished anxiety and depression.


Many, particularly in the fields of psychology and cognitive therapy, have suggested MDMA might have therapeutic benefits and facilitate therapy sessions in certain individuals, a practice which it had formally been used for in the past.


Clinical trials are now testing the therapeutic potential of MDMA for post-traumatic stress disorder (PTSD) and anxiety associated with terminal cancer.