Parents must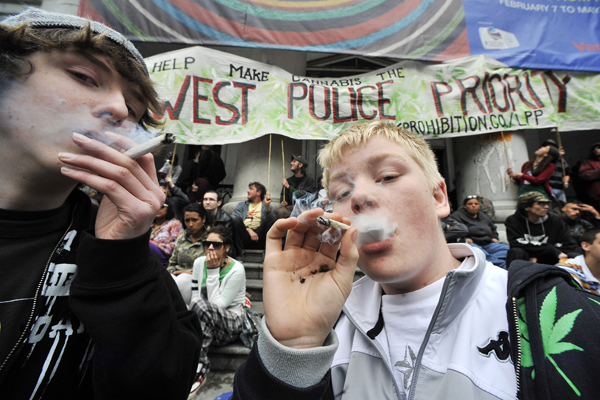 tackle drug abuse at home.


A new survey showing that many Canadian parents are in the dark about their teenagers' drug use comes as little surprise.


Colton Landing, 15, (left) and Mitchell Brown, 14 take part in big smoke-in to promote legalization of marijuana in front of Vancouver Art Gallery on April 20, 2009. Photograph by: Ian Smith, PNG


Parents are often among the last to know what their children get up to. And that's been true since time immemorial.


Nor is it really surprising that between one-third and one-half of kids aged between 15 and 19 reported using marijuana in the past year, according to the survey commissioned by the Canadian Centre on Substance Abuse.


For years now, pro-pot zealots such as Marc Emery have made marijuana seem like a "cool" thing for youth to use.


No, what's more shocking is the increasing number of kids who admit to taking prescription drugs, most of which they obtain from home.


These are drugs like OxyContin, a highly addictive painkiller used by a number of local gangsters and such international celebrities as actress Lindsay Lohan and radio personality Rush Limbaugh.


CCSA head Michel Perron has urged parents to monitor their medicine cabinets and rid them of any drugs that aren't being used.


Our view, though, is that parents need to go further. They should lead by example and, as far as is humanly possible, live a drug-free life.


After all, that's probably the best way to keep their children clean and sober.


© Copyright © The Province.
Click Here for theprovince.com/entertainment/Editorial+Parents+must+tackle+drug+abuse+home/3840341/story.html