A New Day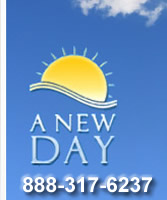 Rehab is a drug and alcohol treatment center beautifully located in Singer Island Florida.


Get the most effective and high quality drug and alcohol addiction treatment with our certified addiction specialists


When drugs or alcohol have touched your life, you need to be made whole again. Because an addiction affects more than just one part of your body or life, you need a treatment solution that will help you put all of the pieces back together.


Those who are serious about treating their addiction understand that a holistic approach is necessary to help them beat their addiction for good.


At A New Day Rehab, patients can get the individualized treatment and support they need to heal their bodies, minds and spirits – ensuring that the road to recovery is a permanent one.