Les Mariannes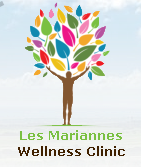 Wellness Clinic offers a world class service to help restore your emotional, psychological and spiritual balance.
The clinic offers the luxury of a hotel underpinned by professional care.
Les Mariannes Wellness Clinic provides a seamless experience, with no boundaries so you can encounter wellness beyond your treatments at the Wellness Centre.
The holistic wellness services are the core of the health escape and accommodation and other facilities are a natural extensions of our concept.
Imagine ….. Walking into a luxurious boutique hotel set on a hillside, with landscaped surroundings, majestic mountains, pristine views of the farmlands and Indian Ocean, punctuated with its two famous island jewels in the distance blue waters, welcoming you to the Indian Ocean and Mauritius.
The moment you arrive at Les Marianes Wellness Clinic, you will feel the gentle energy of calmness where every cell in your body naturally starts to feel reconnected to "The Source ".
Les Mariannes Wellness Clinic integrates a diverse range of Oriental and Western healing practices in an idyllic environment where nature's healing energies are at their best.
Amidst this unique setting, a team of gifted, dedicated practitioners and professionals offer an individual tailored program for you, including body massage, reflexology, acupuncture, to name a few of our outstanding alternative therapies, aiding and promoting the harmonious development of the whole person, including