Mindful Living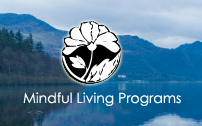 Program's online classes, including Mindfulness-Based Stress Reduction (MBSR), Mindfulness-Based Cognitive Therapy (MBCT), and Mindfulness-Based Cancer Care (MBCC).


You will find many resources here to help you cultivate mindfulness in your life and discover the power and beauty of being present.


We feel honored to offer you our skills and programs and hope you gain much from our efforts to serve you


Mindfulness is the awareness you discover when you are being present without judging and without striving for anything.


You may cultivate this kind of awareness with formal practices such as meditation and yoga, and with informal practices such as embodying presence in communication with others.


When you invest yourself in being fully present in your life you can find a treasure within you — it's the treasure of your wholeness and the richness of life itself.


This is a gift that only you can give to yourself but we're here to help. We are mindfulness teachers with many years of experience in guiding others on this path of awakening to what's most real and precious in life.