Dopeless Hope Fiend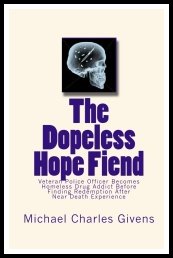 recovery books.


A man convinced himself that smacking himself in the head with a hammer felt good. So good in fact that on one beautiful summer day, he removed his tool of choice from his tool box, held it firmly in his right hand, then "WHAM."


Straight to the cranium. He was rushed to the hospital by ambulance where he layed in criti…cal condition. His sobbing wife stood at his bed side.


She was heard to say, "He told me that he would stop doing hammers. Doesn't he know that hammers kill?"


As he healed, he promised his friends and family members that he would NEVER do hammers again. While in recovery, he was a regular in HA (hammer anonymous) meetings and had accumulated lots of clean time. But slowly those old behaviors began to re-emerge.


He started hanging around hardware stores and construction sites. He remembered his past disasters; but he was powerless to change his plight. One day while walking, he turned and looked into his neighbor's garage and could not believe what he saw.


Hanging on a hook on the far end of the garage was a Craftsman 1500T. The 1500T was known for it's workmanship and balance. It is by far the best hammer on the market today.


Without hesitation he turned and ran into the garage, grabbed the tool, "WHAM." It was hammer time on his dome. At his funeral he was eulogised as a good guy with a weakness for hammers.