Lemmon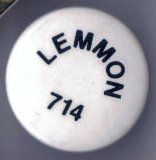 Quaaludes, often called "ludes," are a sedative-hypnotic drug, methaqualone, formerly used to treat insomnia. The drug produces a feeling of euphoria (intense well-being) that lasts for a few hours. Fatal overdoses can occur when the drug is used alone, but especially when it is mixed with alcohol and/or barbiturates.


A popular drug of abuse among college students in the 1960s and 1970s, Quaaludes are now illegal. In 1975 Quaalude use was about half the level of barbiturate use.


In 1981 the annual rate of use was7.6 percent, and use steadily dropped through 1993, when only 0.2 percent of high-school students reported using it. As with many other drugs of abuse, use of Quaaludes increased somewhat through the early 1990s, reaching 1.1 percent in 1996, where it remained through1999. Use then dropped to 0.8 percent in 2001.