Opioids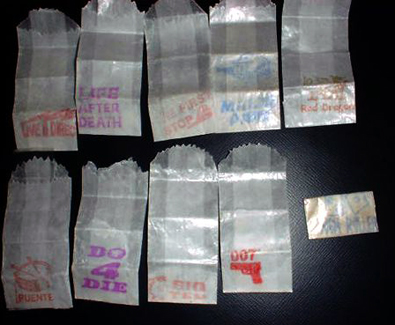 The brownish gum that bleeds out of a poppy plant is raw opium. Recently, Fentanyl that has killed more than 60 heroin users in the Chicago area. Virtually everyone who takes opioids will become physically dependent on them, which means that withdrawal symptoms like nausea and sweats can occur if usage ends abruptly. But tapering off gradually allows most people to avoid those symptoms, and physical dependence is not the same thing as addiction.
Addiction — which is defined by cravings, loss of control and a psychological compulsion to take a drug even when it is harmful — occurs in patients with a predisposition (biological or otherwise) to become addicted. At the very least, these include just below 10 percent of Americans, the number estimated by the United States Department of Health and Human Services to have active substance-abuse problems. Even a predisposition to addiction, however, doesn't mean a patient will become addicted to opioids.
Slang term for a way of smoking heroin, which usually involves placing
powdered heroin on foil and heating it from below with a lighter.
The heroin turns to a sticky liquid and wriggles around like a Chinese dragon, hence the name. Fumes are given off and are inhaled, sometimes thorough a rolled up newspaper, magazine or tube. Tonight when I chase the dragon / The water will change to cherry wine / And the silver will turn to gold – Time Out Of Mind
But the drug can produce a quick and potentially lethal high if it is chewed, snorted or injected. It has been linked to more than 100 deaths and bears the government's strongest warning label, which says the drug may be as addictive as morphine.
http://poppies.org/
http://www.heroin.org/